Advertisement
Fortnite: How to Destroy Target Dummies with IO Weapons for Week 12 Quest
Fortnite season 7 of's Season has been all about aliens, high-tech weaponry and quests. The latest batchFortniteLegendary quests are now available on the battle royale islands. One of them requires players to find an IO weapon to use to destroy four target dummies. These target dummies can be found at many locations on Season 7, but one location is easier than others.
Fortnite: Where can I find IO Weapons?
Fortnite IO tech weapons can be found in large IO chests that are scattered around various IO bases. These locations have a glowing red satellite dish and are easily visible once players are inside the Battle Bus. Some of the IO tech weapons that can cause damage to the target dummies are the Rail Gun and the Pulse Rifle. There is no guarantee that a particular IO weapon will be found in the IO chests.
Advertisement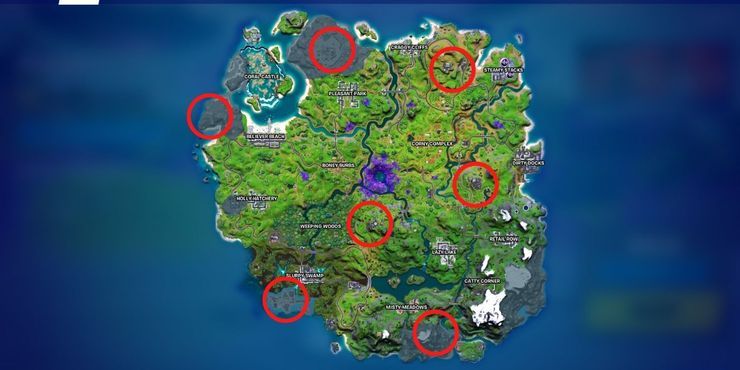 To see the locations of all IO bases on the map, Fortnite players can click the image below. Once players have landed at a base they will want the chests containing the tech weapons.
These bases are likely to be visited by other players looking for weapons. Players should be aware that IO guards can also defeat players if they aren't prepared.
Fortnite Season 7: Target Dummy Locations
As mentioned previously, there are multiple locations to find these Target Dummies, but the easiest spot to go to is west of Corny Complex. There are four different dummies to be defeated and many abandoned vehicles to be found in this area. Because the dummies are very close together, this location is ideal for completing the quests.
Two dummies are located in the corner between some trees and the fence. These dummies must be destroyed using one of the tech weapons, or it will not count towards the Legendary quest for Week 12.
Players can find the next two locations by heading north from the original location.
Advertisement