Advertisement
Pokemon TV App Launched for the Nintendo Switch With Full Anime Episodes
There are many to choose fromPokemonFans of the series can enjoy media centered on the series, including comic books and TV programs. The Pokemon Company today released the pokemon TVApp for Nintendo Switch.
The Pokemon TV app, available on both mobile devices and the Switch, allows users to view all kinds of Pokemon media in one location. Although the app was available on mobile devices since 2019, it is now free to download for Switch users.
The Pokemon TV App is full of Pokemon content ranging from full anime seasons to shorter, five-minute Pokemon Kids TV episodes that feature things like fun dances and lullabies. The app contains episodes from all 11 seasons. These episodes range from the very beginning episodes of the Indigo league to the most recent episodes of Pokemon Journeys.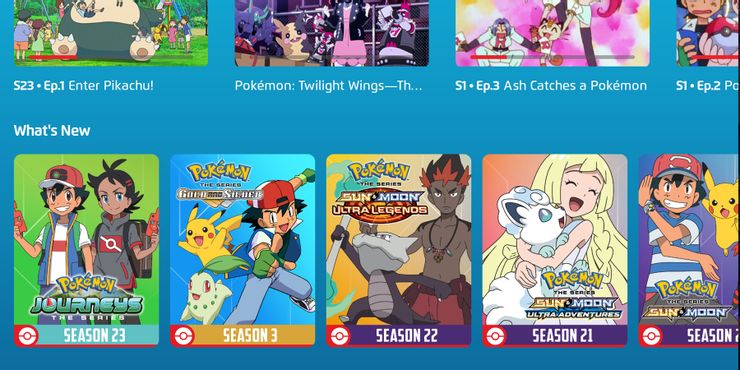 Advertisement
While not all content is up-to-date with the latest episodes of Pokemon anime, there is plenty of content to get fans started. The Pokemon Company regularly updates the app's content so that there is always new content available when you open it.
The app is available for both Pokemon video games and TCG fans. It features recordings of events like the Pokemon Players Cup 1, 2, 3 and the Pokemon World Championships 2019. The app features tutorials on deck building, tips and tricks from popular Pokemon card players, and a video guide to getting into the Pokemon trading cards game.
Due to the unprecedented increase in demand, Pokemon cards are notoriously difficult to buy. This may prove to be a problem for new players of the game. However, those who have purchased new packs can still benefit from the simple tutorials on the Pokemon TV app.
Over the past few months, there has been many Pokemon news as The Pokemon Company prepares to release Pokemon Brilliant Diamond (and Shining Pearl). These remakes give fans a glimpse of the Sinnoh area introduced in the original Diamond DS and Pearl DS games, before Pokemon Legends. This game, which is a prequel to the whole series, is set in the Sinnoh area. Fans who want to catch up on the anime that follows Ash's and Pikachu's journey through Sinnoh will be able to watch all four seasons of the Pokemon TV app.
Advertisement