Advertisement
Behemoth livens up the eco-thriller with surprisingly intense.
There'sThere's a whole subgenre of inspired-by-real-life legal thrillers that emphasize the ecological horrors of life under capitalism. Erin Brockovich and Michael Clayton are three of the authors. They draw a clear line between corporations' profits, the destruction of the natural world, and why people become sick. But those films are firmly realistic, people-arguing-at-tables dramas. The indie thriller Behemoth makes its way into this subset of cinematic films with a similar theme, "Companies are dying us", but it employs various visual effects that mix sci-fi with fantasy to give its message a terrifying surreality. While some of the content is more sophisticated than others, Behemoth has a more jarringly effective approach.
The '90s B movies that used to be broadcast on UPN in the early morning hours, when it was perfect for students who were too tired or stoned and those who stayed up late. The Behemoth combines the best and worst of those movies with a thin script and characters and an urgently conspiratorial tone. It has a visually stunning world filled with rotting faces, insect/human hybrids, and blood flowing out of orifices. The monster extends tentacles made of barbed wire and covers animals with sores, rotting flesh, and withering plants. Behemoth occasionally reveals its $65,000 budget with CGI work that is clunky around edges and production design that feels limited to empty locations with scant additionals. It has a strong impact as a whole.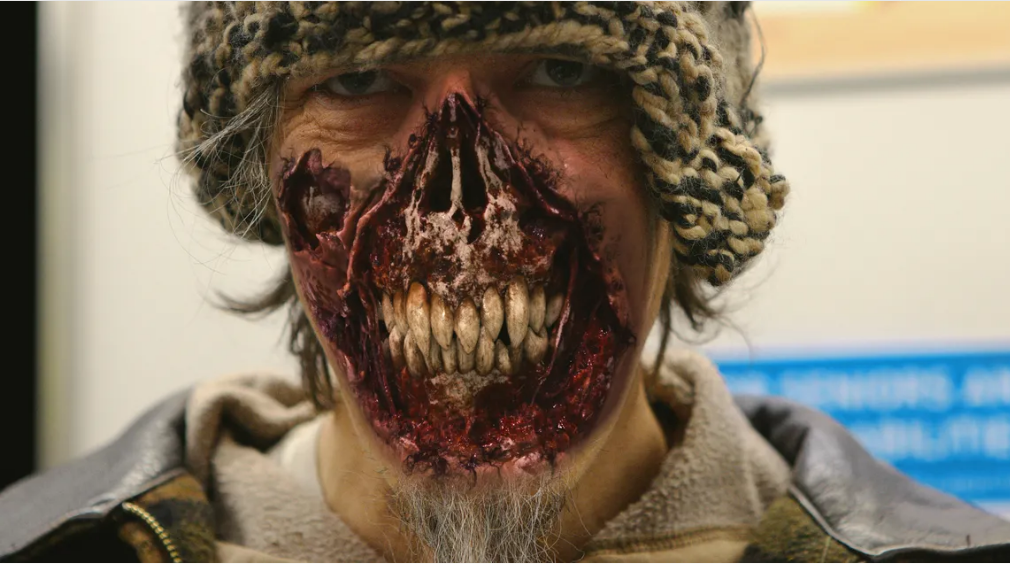 Director Peter Sefchik, a veteran VFX artist, has worked on Thor: The Dark World, James Cameron's Avatar, and James Cameron's Avatar. Joshua (Josh Eisenberg), a former representative for De Pointe's global chemical company, drives Behemoth forward. According to Joshua's friend Dominic Wagner (Richard Wagner), the film is so powerful that it would "make the Boogeyman shit him." If you are feeling deeply depressed, please read about DuPont's actions and the inspiration for Dark Waters.
Advertisement
After 10 years working for De Pointe, Joshua is a whistleblower and seeing numerous reports about the company's involvement in numerous eco-disasters. His young daughter is soon dangerously ill as he waged war against De Pointe's claims of mental illness. Joshua and Amy (Whitney Nielsen), who are now in a sham marriage, fall apart when he obsessively descends into a conspiracy-theory rabbit hole and attempts to find the De Pointe-affiliated xin that could be infecting his daughter.
Joshua finally sees an opportunity after months of unsuccessful attempts. De Pointe's global head for research and development, Dr Luis C. Woeland (Paul Statman), will be appearing at a conference. Joshua, Dominic, Keelee, and Dominic's girlfriend Keelee (Jennifer Churchich), spontaneously kidnap him hoping that he'll give some answers. Joshua's lawyer warns him that these are powerful people. They are not ashamed. They don't get embarrassed." Dr Woeland is not a pushover and delivers a steady stream of pithy insults towards Joshua's "novel mixture of stupidity and perseverance". Aiello (Vadym Kresnenko) is off-putting. He begins in Terminator fashion to track down the kidnappers.
Sefchik describes behemoth as being inspired by the question, "What if an activist kidnaps a powerful CEO only to discover that he is not who he seems?" However, it takes some time for the story to move forward. Too much of the film is about Joshua's paranoia and friction with Amy. It also focuses too much on his Internet research about Dr Woeland. The film's exposition-heavy introduction highlights the problems with its stilted script. It was written by Sefchik along with Derrick Ligas and did not do any favours for its performers or characters. Statman is the only one who actually chews on the dialogue. His expressive face oscillates between anger and bemusement, often and easily. Statman's line delivery conveys a sarcastic, elite, annoyed man, also the cast's most naturalistic actor.
Advertisement