Advertisement
Destiny 2's Void 3.0 in The Witch Queen will let players mix and match their abilities
Bungie announced at the Destiny Showcase that all Destiny 2's Light subclasses, Arc, Solar and Void, will be converted to the Darkness/Stasis over the next year. A few days later, the studio gave players their first look at the first subclass getting updated: Void.
The studio revealed that players wouldn't unlock the Darkness subclass in The Witch Queen or any point before Destiny 2's 2023 expansion Lightfall. This was something Joe Blackburn, creative director of Bungie, discussed on Twitch just an hour before. Bungie stated that players would not unlock new Stasis Aspects and Fragments in Season of the Lost.
Stasis provides the classic class ability, jump augment and grenade choice. Players can choose two Aspects to augment their subclasses with new abilities and functionalities, such as allowing Hunters to hold a button midair to return to Earth. Void 3.0 will function similarly, but players will have the option to choose multiple Supers instead of Stasis' one-Super option.
Like Stasis' "Slow, Freeze, and Shatter" offering, Void will also receive key terms to define it. These are called "verbs", by Bungie. These are buffs and debuffs that work in tandem with Stasis' "Slow, Freeze, and Shatter." Void's verbs are "Suppression. Weaken. Volatile."Ed. Note: Bungie, "suppression", and "volatile" don't sound like verbs.
The goal of suppression is to blind and disable enemies. It also prevents them from using any abilities or firing at anything in the case of AI enemies. Weaken slows down the target's movement and increases their incoming damage. Volatile makes the enemies affected explode after they are killed or take enough damage. Void Guardians can also apply an Overshield or invisibility to their allies, as well as Devour (a life-steal boost).
Advertisement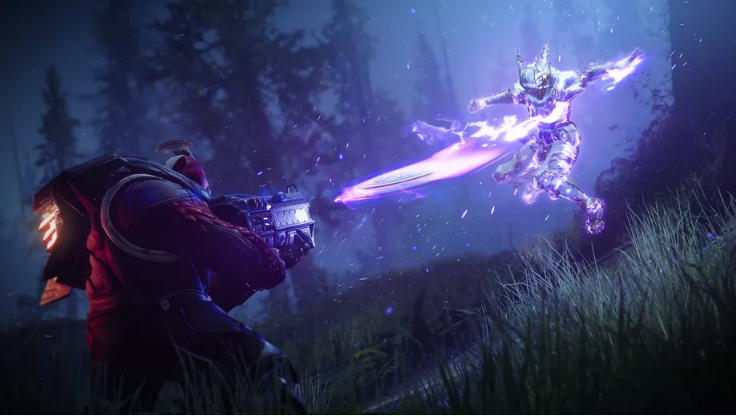 Bungie also revealed the verbs. They also showed players a variety of new Supers or Aspects for each class.
Nightstalker Hunters will receive a new version of the Moebius Quiver Shadowshot that allows players to fire multiple arrows. Players will be able to fire three volleys of three arrows per turn in the Void 3.0 version. The arrows will search for enemies and tie them with multiple Void Anchors. This turns them Volatile.
The Stylish Executioner Aspect, a new Aspect for Nightstalker Hunters, will make them invisible and grant them Truesight every time they kill a Volatile or Suppressed enemy. If Nightstalkers are equipped with this Aspect, they will Weaken their enemies by using a melee attack against them during invisibility.
Sentinel Titans will receive a new Aspect, as well as a melee ability. Overwatch gives the Titan's Barricade with Void a new power, giving it and its allies a powerful Overshield. Sentinel Titans will also be granted Shield Toss melee abilities, which allows them to act like Captain America without their Super. The shield can bounce between enemies, and the Titan will get an Overshield Charge for each one it hits.
Void 3.0 may bring about the most significant changes for Warlocks. Pocket Singularity, a new melee projectile, tracks enemies and pushes them away from cover. It then explodes and makes them Volatile. The new Aspect Children of the Old Gods summons a "sentient dark hole" when the Warlock places a Rift. Bungie refers to it as the "Child" and will attach to nearby enemies, like a Metroid. It will Wake them, return melee energy or grenade for Healing Rift users, or give health to Empowering Rift players.
Bungie explained that Void 3.0 would bring many changes to the game, but players should still build new builds and mix and match their old abilities. Bungie showed some great examples, including Spectral Blades and Vanishing Steps for Hunters, Ward of Dawn, Controlled Demolition For Titans, Handheld Supernova, and Devour For Warlocks…
Advertisement