Advertisement
Twelve Minutes is an uncomfortable journey — maybe too uncomfortable
TimeTime only ever flows in one direction, so far as we know: forward. This immutable law of nature puts all kinds of constraints on our existence. Perhaps the most obvious practical limitation imposed by time's arrow is the principle of cause and effect — or, to put it another way, our understanding that actions have consequences.
This truth of the universe ties closely with the human faculty of memory. Once we've become aware of something — learned of its existence, experienced it with our senses — it's difficult to forget it (or, at least, to actively forget it). If you've spent any significant amount of time on the internet, you know that what one has seen, one cannot unsee.
These are the kinds of thought-provoking concepts that Twelve Minutes, the long-anticipated game from indie developer Luis Antonio, seeks to probe. And in that respect, it succeeds: I spent a lot of time pondering these ideas as I prepared to write this review. I do wish the game didn't have to put me through its particular wringer to get there — but maybe that's part of the point.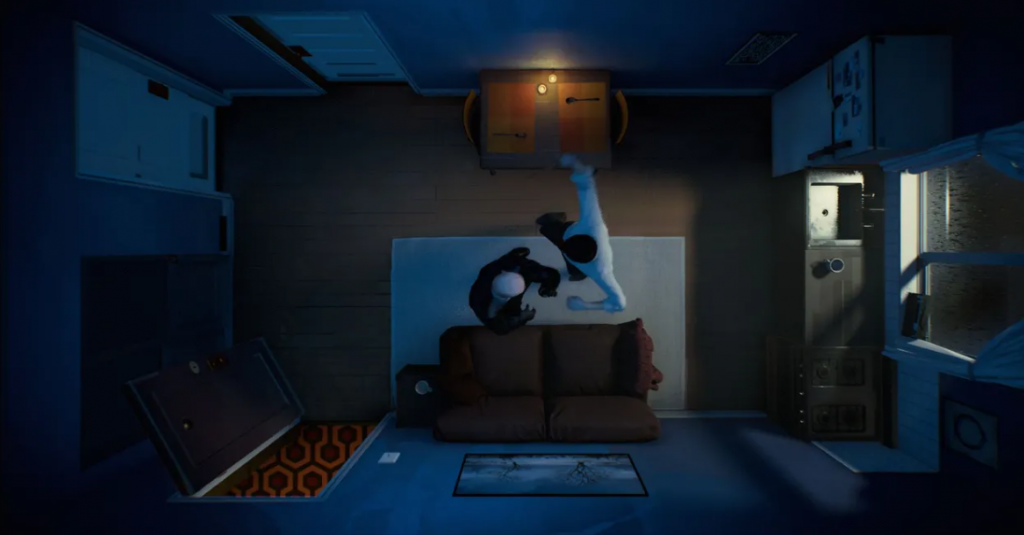 Twelve Minutes draws on the format of point-and-click adventure games to tell a twisted story about a man who keeps reliving the worst night of his life: He comes home to his wife, who has planned a special evening for the two of them, which gets interrupted when an intruder assaults them. Things end poorly, but the man wakes up right back where he started, having just walked into his apartment. He quickly realizes that time is repeating itself, and his objective becomes clear — find a way to stop the cycle.
Advertisement
Knowledge is power in this quest. The only way to acquire it is to try making different choices in each loop, experimenting with actions and dialogue choices so you can see how your decisions affect the way things play out. In some cases, that means refraining from speaking. In others, it means removing yourself from the situation to watch how other people act in your absence.
This is where Twelve Minutes excels: It gives you a sandbox and the tools to play in it, and doesn't hold your hand. I never tired of the joy of discovery in this game, of coming up with a hypothesis and then testing it. In most cases, a failed outcome — and there will be dozens of them before you reach one of the game's endings — will teach you something. That nugget of information will then nudge you down another path.
Despite the limited instructions, you'll grasp the fundamentals quickly. Whenever you move the cursor over something you can interact with, the name of that person or object pops up; if it's an item you can pick up, you'll see a little upward arrow as well. Where appropriate, you can also combine items from your inventory with objects or people in the environment. For instance, if you pick up a mug and then drag it from the inventory to a sink, the man will fill the cup with water; if you drag the cup of water from the inventory to the man's wife, he will hand it to her. Finally, you have the ability to examine inventory items to reveal more information about them.
Advertisement